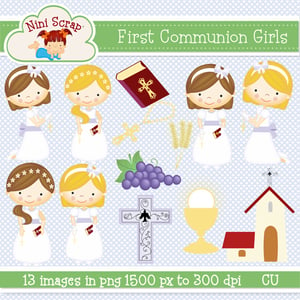 $

2.25
First Communion Girls contains 13 images in png format 1500 px to 300 dpi.
These graphics may be used by card makers and digital designers, for commercial and personal use. Great for party printables and scrapbook pages.
You must create something new such as cards and Printable sheets.
Not for resale please make something new.
All graphics created by me.
First Communion Girls contiene 13 imagenes en formato png 1500 px a 300 dpi.
Estos gráficos pueden ser usados por personas que hacen tarjetas y diseñadores digitales para uso comercial y personal. Estupendas imágenes para imprimibles de fiesta y páginas de scrapbook.
Debe crear algo nuevo como tarjetas y hojas imprimibles.